WDAFS 2017 attendees will have the option to take advantage of a variety of continuing education workshops, tours, and field trips. See below for descriptions on the upcoming events and check back regularly for updates on schedules, pricing and availability.
When you register, be sure to sign up for one of these great 'extra-curricular' activities! Space will fill up fast!
Continuing Education Workshops
Designing Beautiful Figures in R
Instructor: Timothy Walsworth, a post-doctoral research associate at the University of Washington.
Workshop Description: Well-designed, eye-catching figures can improve the ability of your audience to grasp and remember the core concepts and results of your research. In this one-day workshop, we will explore how to design beautiful, impactful graphics using the base graphics system in the R Statistical Computing Language. We will cover basic principles of data visualization, customizing the basic plotting functions in R, producing multi-panel figures, and basic color theory. Participants can apply the concepts presented in this course to design more effective figures for their future publications and presentations. Participants should be familiar with the basic commands and syntax of the R programming language.
This will take place on Monday, May 22nd and will be a full day workshop.
Cost: $60 per person
Publish or Perish: Avoiding Common Pitfalls Before You Hit Submit
Instructor: Vaughn Paragamian—a retired Fisheries Research Principal Biologist from Idaho Fish and Game, former Associate Editor for North American Journal of Fisheries Management, a Life AFS member, and currently a fisheries consultant.
Workshop Description: Preparing a manuscript for publication and getting it published is no easy task even for most seasoned veterans. The workshop is intended for the young and old novice at preparing a manuscript for journal submission. I specifically consider the manuscript organization, style guidelines, and what is expected in the Introduction, Methods, Results, Discussion, and References. The workshop will also consider the submission process including dealing with the editorial process and harsh reviews.
This take place on Monday, May 22nd and will be a half day workshop.
Cost: $30 per person
Basic Education of Abundance
Instructor: TBD
Workshop Description: This workshop will discuss different methods for estimating abundance including: depletion/removal estimates, single-census closed population (Petersen-type) mark-recapture estimates, multiple-census closed population (Schnabel-type) mark-recapture estimates, simple open-population (Jolly-Seber) mark-recapture estimates. The workshop will specifically cover common biases in estimating abundance in fisheries management and research.
This take place on Monday, May 22nd and will be a full day workshop.
Cost: $60 per person
Field Trips
Raft the Lochsa River with Zootown Surfers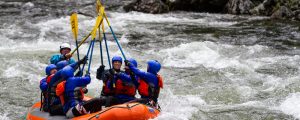 The Lochsa River (Idaho) is one of the best white water rivers in the world. The Lochsa is a designated National Wild and Scenic River, originating on the western slope of The Bitterroot Mountains, far into the wilds of the Clearwater National Forest. Every trip down the Lochsa is a true whitewater experience with many class IV rapids. Zoo Town Surfers have river professionals who will enhance your whitewater experience while maintaining the overall safety of your trip.
This trip will take place on Friday, May 26th and will be a full day excursion.
Cost: $130 per person


Tour the Iconic Blackfoot Valley

In the past 40 years, the Blackfoot Watershed has become a pioneer landscape, demonstrating the success of collaborative conservation. Join us for a tour starting at the site of the Milltown Dam removal and visit stream restoration projects across various scales and ownerships and private lands protected by conservation easements. We will be joined by representatives from local nonprofit organizations, state agencies and private landowners, all working together to preserve the valley and the Blackfoot River and its tributaries.
This trip will take place on Monday, May 22nd and will be a full day excursion.
Cost: $45 per person
Fish Rock Creek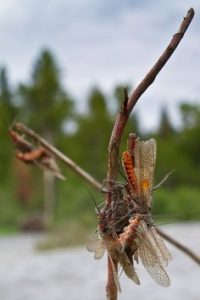 Rock Creek is one of the finest trout streams in Western Montana featuring multiple species including native westslope cutthroat and bull trout along with wild rainbow and brown trout. But it's the legendary salmon fly hatches each spring that make Rock Creek a destination fishery, with solid hatches of mayfly and caddis occurring consistently throughout the year. Join a local volunteer from the Westslope Chapter Trout Unlimited or Montana AFS for a day of fishing on Rock Creek or other local water if conditions warrant. Note that May is an unpredictable month for fishing conditions but the scenery and company are guaranteed. Participants will need a valid Montana fishing license along their own fishing equipment and (clean) wading gear. Contact Casey Hackathorn with Trout Unlimited at chackathorn@tu.org if you have any questions.
Licenses, flies and local information are available from the following retailers:
The Missoulian Angler Fly Shop
Rock Creek Fisherman's Mercantile
Online at Montana Fish Wildlife & Parks


This trip will take place on Monday, May 22nd and will be a full day excursion.
No registration cost, but pay your way: share gas for carpooling, food, and fishing license
Glacial Lake Missoula & Bison Range Tour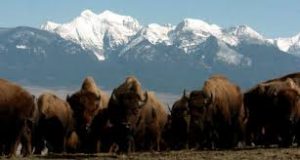 About 12,000 years ago, the valleys of western Montana lay beneath a lake nearly 2,000 feet deep. Glacial Lake Missoula formed as the Cordilleran Ice Sheet dammed the Clark Fork River just as it entered Idaho. The rising water behind the glacial dam weakened it until water burst through in a catastrophic flood that raced across Idaho, Oregon, and Washington. Over the course of centuries, Glacial Lake Missoula filled and emptied in repeated cycles, leaving its story embedded in the land which will be revealed throughout the day.
Combine this with a natural history tour of the National Bison Range for ample wildlife and flower viewing. Wildlife viewing opportunities include bison, elk, white-tail and mule deer, antelope, bighorn sheep, black bear, coyote, and over 200 species of birds, including eagles, hawks, meadowlarks, bluebirds, ducks and geese.
This trip will take place on Monday, May 22nd and will be a full day excursion.
Cost: $40 per person
Fish Printing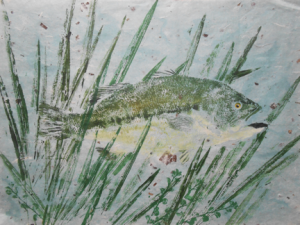 Instructor: Bruce Koike, a fish print artist from Newport Oregon first learned his art form while in graduate school at Oregon State Fish Printing Workshop University's Department of Fish and Wildlife. He has been printing since 1990 and has had careers in fish husbandry at public aquariums, created and directed the NSF funded, Aquarium Science Technical Program at a community college, and served as a community college Interim President.
Workshop Description: The Japanese art of Gyotaku is at the intersection of science and art disciplines. Gyotaku translates literally into "fish rubbing" as this art form utilizes the actual (non-living) specimen. The 3-hour workshop will be focused on technique building by printing several species of fish.
The instructor provides the fish, acrylic paint, rice paper and other consumables. Participants should have a spirit of exploration and adventure. Workshop is limited to 18 individuals.
This workshop will take place Friday, May 26, 2017 in the Skaggs Building, room 230 (on-campus) from 9:00 a.m. until noon.
Cost: Professionals $80, Students $60,  $20 non-refundable deposit requested. Balance due at the workshop (cash or check is appreciated). For questions or to RSVP contact Bruce directly by email:koike.bruce@gmail.com
Missoula Craft Beer & Spirits
This is a Do-It-Yourself experience for the beer enthusiast with a sense of exploration! Please use this Brew & Spirit Tour Interactive Map to find your new favorite watering hole.
Hiking & Birding
Downtown Missoula is couched in a valley full of fun hikes and nature trails. You don't need a car to spend all day on the trails on and around the city. If you are looking for an easy stroll along the river, The Kim Williams Trail follows the old Milwaukee Railroad for 2.5 miles through a 134-acre natural area in Hellgate Canyon. Scan the steep rocky slopes to the south for Red-tailed Hawks, Cooper's Hawks and an occasional Prairie Falcon. Pikas, chipmunks and ground squirrels find safety in the rocky talus slopes. Nashville Warblers nest nearby. This is one of the best places to see cordilleran Flycatchers in Missoula. You'll see Ospreys, Great Blue Herons, and Common Mergansers hunting for fish in the Clark Fork River. Red-winged Blackbirds defend the river willows.
Take the switchbacks up to the M-trail, to get great views of the Missoula Valley and the University of Montana. Along the way, you'll see grassland birds such as Western meadowlark and Savannah Sparrows. Lazuli Buntings and Calliope Hummingbirds defend their nesting territories perched at the tops of serviceberry and chokecherry bushes in the woody draws.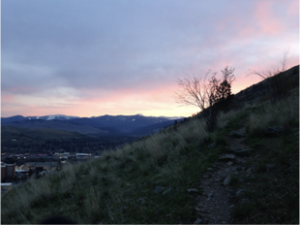 Head up Mount Jumbo on the L-trail from trailheads at the north end of Cherry or Poplar Street, just north of I-90 in and you'll traverse a variety of habitat. Look for Calliope Hummingbird, Nashville Warbler, Spotted Towhee and Lazuli Bunting in shrub habitat at the beginning of the hike. As you reach higher elevations, you may see Blue Grouse nesting in Douglas fir, bluebirds tending bird boxes, or watch Prairie Falcon swoop as they hunt for prey through prairie grasses. In addition to the many birds, you are also may catch a glimpse of deer and elk, the occasional black bear, and Montana's beautiful spring blooming wildlife flowers.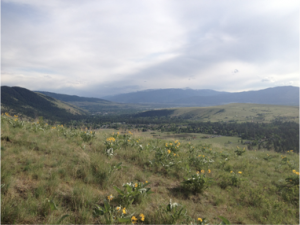 All of these trails connect to the larger trail network surrounding Missoula. Check out the links below for more great places to view wildlife a stone's through from your hotel room.
http://www.montanabirdingtrail.org/maps/r1/t1/r1t1.php
http://fvaudubon.org/birding/missoula-birding-hotspots/